5.6 Sampling Distributions for Differences in Sample Proportions
#exploringdata
#sampling
#experimentation
#anticipatingpatterns
#statisticalinference
⏱️  1 min read
written by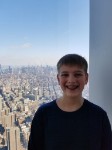 (editor)
---
Differences Non-Distribution Recap
To find the sampling distribution for differences in a sample proportion or mean, remember that variances always add to find the new variance. If one needs the standard deviation, you should take the square root of the variance. However, for means you can just subtract. 
Proportion Differences
To find the standard deviation of differences in sample means, divide the variances by each sample size before square rooting to find the overall standard deviation. The simplified formula can be seen below. If you are only given the standard deviations for both samples, you must square both standard deviations, add them up and then take the square root. This can be referred to as the "Pythagorean Theorem of Statistics."
Source: NEW AP Statistics Formula Sheet

For any Proportion Inference, you must check Large Counts to confirm normality. You can only check Central Limit Theorem for Quantitative Data (Means).
Here is a review of types of distributions: