4.4 Mutually Exclusive Events
⏱️  1 min read
---
Mutually Exclusive vs. Independence
Focus on identifying when events are mutually exclusive or independent. They cannot be both simultaneously.  The event "A and B" is known as the intersection or joint probability, denoted by AB. Its composed of all outcomes that are common to both events.
Two events are mutually exclusive if they cannot occur at the same time and have no outcomes in common. That means that P(A and B) = 0. The addition rule for mutually exclusive events A and B states that P(A or B) = P(A) + P(B). Understand that this rule works for mutually exclusive events only. 
🎥Watch: AP Stats - Probability: Two way tables, Conditional, Independence, Tree Diagrams, Etc.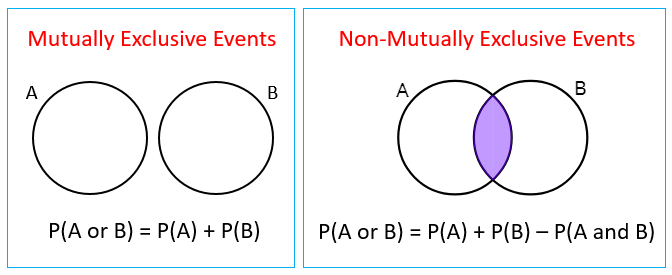 Courtesy of Online Math Learning