💭 Rites of Passage
A Japanese person's life is marked with many significant events. These events celebrate the growth of the individual and involve many family members and friends who all express well-wishes for the future.
🎉 Shichi-go-san (七五三)
This is the first large celebration that a Japanese child will experience, and it occurs on or around November 15. The numbers, shichi, go, and san, are seven, five, and three respectively, and they represent the ages of the children who are involved in the celebration. Girls celebrate shichi-go-san when they are three and seven years old while boys celebrate it once when they are five years old. (Some families celebrate when their son is three years old as well but it is not very common)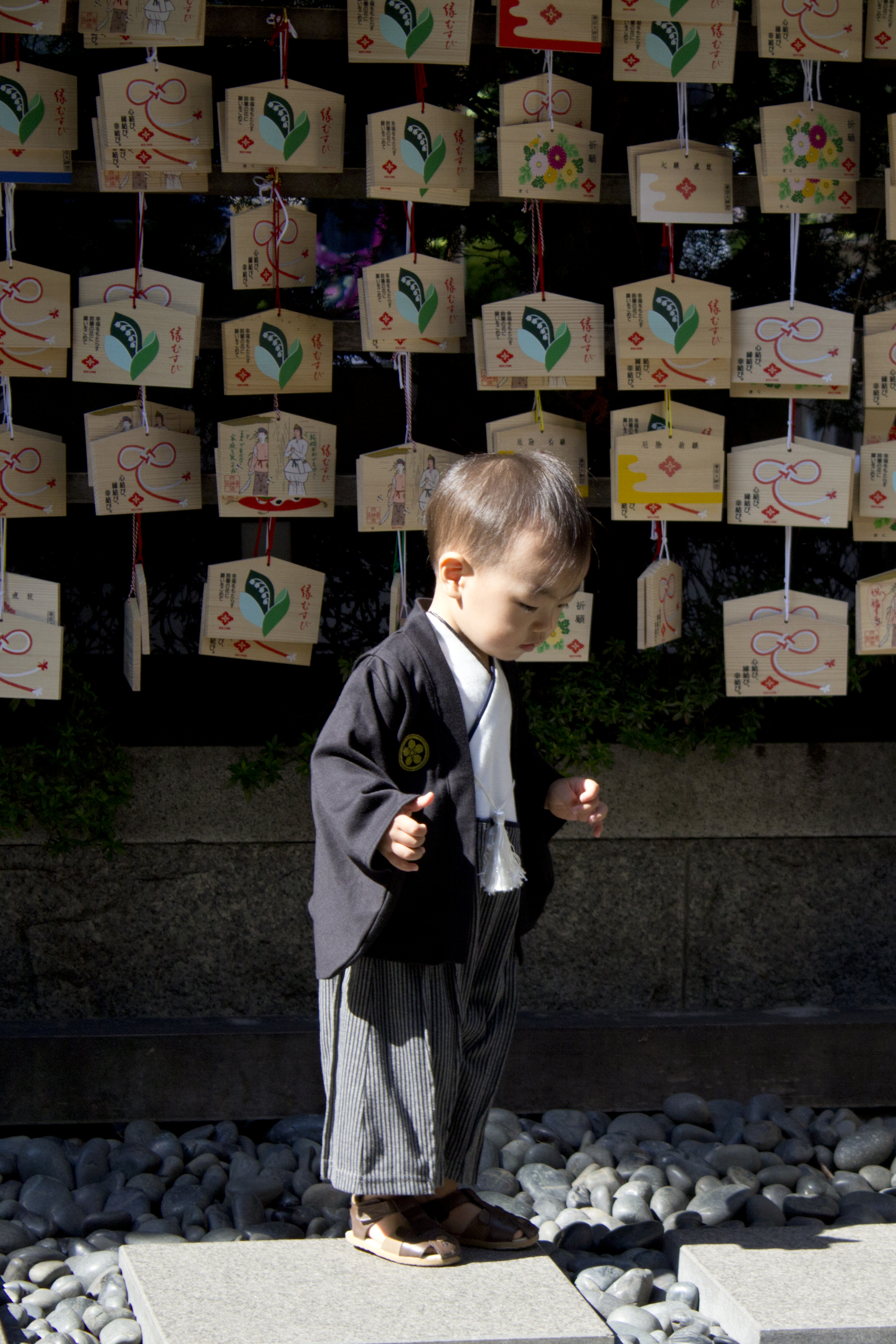 Image Courtesy of Wikimedia
Children wear kimono (着物), traditional Japanese clothing, often for the first time in their life, for this special occasion. They also wear zōri (ぞうり) with their kimono, which are flat sandals made of straw and rubber. These elegant pieces of clothing represent the children's increased responsibility and the first step toward adulthood. Once the children are dressed, families visit their local shrine or jinja (神社). There, they pray for their children's well-being and healthy growth.
Perhaps every child's favorite part of this celebration is the chitose-ame (ちとせあめ). It is a long red and white-colored candy, and each child gets one of each color. Red and white are celebratory Japanese colors. Chitose means a thousand years, and therefore the sticks of candy signify a long life.
Image Courtesy of WordPress
💫 Seijin Shiki(成人式)
This event celebrates all people who turned 20 years old in the previous year or will turn 20 in the current year. This national holiday consists of a Coming of Age Ceremony and is celebrated each year on the second Monday of January.
Once people turn 20, they are legally considered adults. They have increased responsibility and must learn to act maturely. Although this day marks a crucial step into adulthood which could cause some stress, it is a day of joy and celebration.
By the time they are 20, most young women have worn a kimono many times. This celebration is yet another chance to wear a beautiful kimono. However, most kimonos are quite expensive, so many girls end up renting one. Most girls also put special decorations in their hair, though it is really up to each individual person.
Image Courtesy of Wikipedia
Some young men wear suits while others wear a traditional piece of clothing, the hakama (はかま). The hakama is made from silk and consists of a montsuki kimono and traditional loose trousers.
Image Courtesy of Flickr
Once they are dressed, everyone goes to their local city office where the celebration takes place. They listen to city officials give encouraging speeches and words of advice. There are usually many photographers, so everyone can get their picture taken as well. One of the most popular places for the sejin shiki celebration is Shibuya*,* which is in Tokyo. This celebration spot is quite festive with many news reporters, photographers, drummers, and food vendors.
The overall atmosphere of seijin shiki celebrations is vibrant and positive. The young men and women taking part are beginning a new phase of their life as legal adults, so everyone can feel the excitement in the air. It is a celebration of youthful life, and smiles are shared all around.
🔑 Key Words
Shichi-go-san (七五三): rite of passage celebration

Kimono (着物): traditional Japanese clothing

Zōri (ぞうり): flat sandals worn with kimono

Jinja (神社): shrine

Chitose-ame (ちとせあめ): red and white candy sticks

Seijin Shiki(成人式): celebration for people who are 20 years old

Hakama (はかま): men's traditional clothing

Shibuya (しぶや): major business center in Tokyo
💥 Strive for a Five Vocabulary
Negau (願う): to pray, to wish

Kenkō (健康): healthy

Seichō (成長): growth, development

Aka (赤): red

Shiro (白): white

Nagaiki (長生き): to live long

Hatachi (はたち): someone who is 20 years old

Otona (大人): adult

Shashin (写真): picture

Tanoshimi (楽しみ): excitement

Takai (高い): expensive, high

Kau (買う): to buy