5.7 Sampling Distributions for Sample Means
#exploringdata
#sampling
#experimentation
#anticipatingpatterns
#statisticalinference
⏱️  1 min read
written by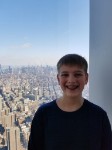 (editor)
---
Formulas
For these problems you are given a sample mean. The average of sample means is equal to the given mean. 

Source: AP Statistics Formula Sheet
However, before you can solve the problem, you must first assure the sampling distribution is normally distributed using the Central Limit Theorem.
For the standard deviation, when you deal with sample statistics, you must use standard error (SE). This version of standard deviation, which is used for population proportions in this case, is another comparison that must be memorized just like the chart in section 5.1.