Unit 6: Market Failure and the Role of Government
6.4: The Effects of Government Intervention in Different Market Structures
A natural monopoly, as mentioned in Unit 4, is a market where the most efficient number of firms in the industry is only one. This is often due to high start-up costs. An example of a natural monopoly would be an electric company; it is more efficient for 1 firm to provide power to an entire city rather than having multiple firms with overlapping power grids.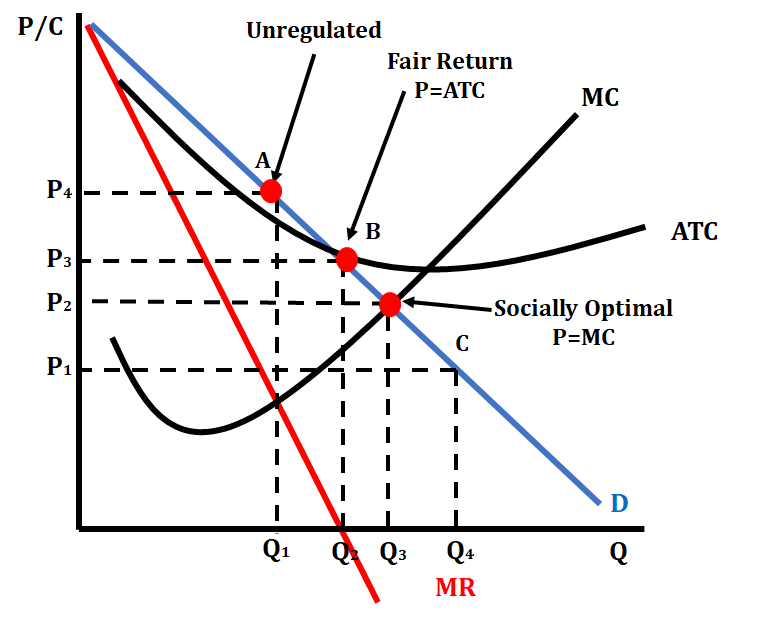 The graph above shows a natural monopoly. Point A is where a monopoly would produce when they are unregulated by the government. Point B represents the fair-return point, where the monopoly would earn a normal economic profit or break even. Point C represents the perfectly competitive or socially optimal point on a monopoly graph. There is no deadweight loss at Point C.
The government can set a price ceiling that can cause a natural monopoly to produce the socially optimal output. The monopoly will need a lump-sum subsidy to produce here.
Other government interventions include price ceilings, price floors, per-unit taxes/subsidies, and lump-sum taxes, as discussed in Unit 2. Per-unit taxes and subsidies affect variable costs, thus affecting the MC, ATC, and AVC curves, while lump-sum taxes and subsidies only affect fixed costs, thus affecting only the ATC and AFC curves.