Resume Example Templates 📃
We explained what you should be including when you create your high school resume, and now we're showing you the different ways you can structure it! While the substance of your resume always takes more importance than the way it looks, picking the right format can help create a good first impression on the reader by making you appear prepared and organized! When creating this one-page document, you want to make sure that the text is visually balanced throughout the whole page and that it is easy to read and doesn't look overwhelming to the reader at first glance. Here are some examples! If you're looking for a place to start check out this
guide on how to create a high school resume.
Resources:
Picking an Aesthetic 🎨
Even though it's important to create a cohesive-looking document as a whole, how you go about this is entirely up to you! This is where templates come in: You can find another resume whose aesthetics appeal to you and make it your own, something you could do with these examples as well 😉
Examples 🤓
Note: You can click the link below each resume example to get a copy of the template for yourself!
1. Minimalist ☯
This is a very cookie-cutter example of a resume. It includes everything that the student would want and uses a minimalistic format to get the point across in the most direct way possible 🗃️
2. Structured 🗂️
One of the best things about the way this resume is structured (for high-schoolers at least) is that it's a great example of how a resume can look with no job experience at all! Just place more emphasis on your community service and the extracurriculars you took part in during high school 🏀
3. Clean & Personal 🎨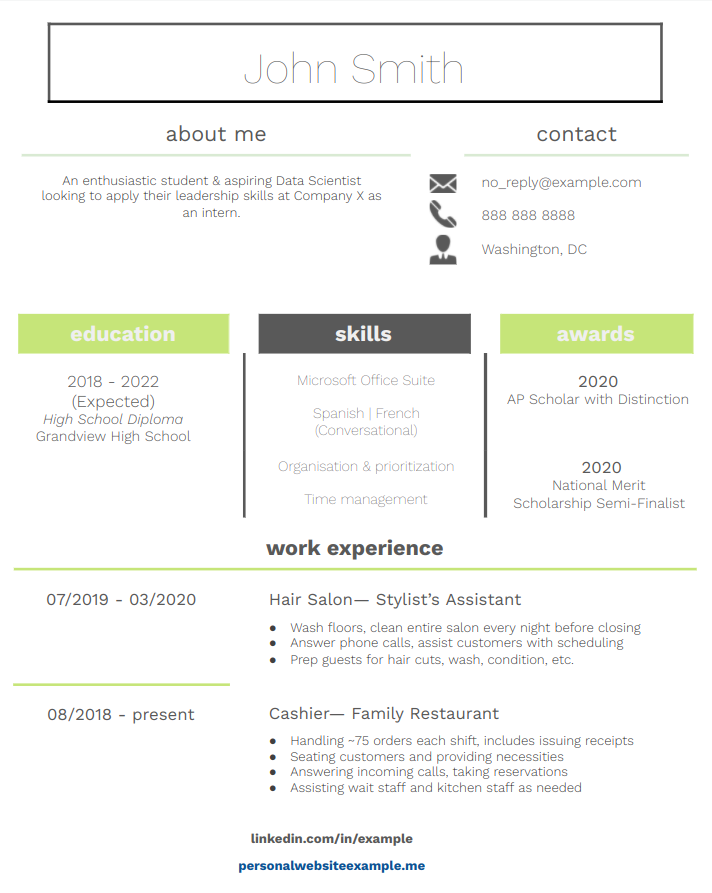 This resume, unlike the other two, has a little more personality to it! Note that it still doesn't look too overwhelming at first glance, though-- with neatly organized sections, it's easy to find all of the information on the page 🧰
4. Academic 📚
While this resume example might look structurally very similar to the others here, it does something very different-- rather than placing focus on either the student's work experience or their extracurricular activities, it instead chooses to highlight their relevant coursework 📝 The student in this scenario could be applying for an internship in the field of journalism, so the courses that they mention having taken in their resume show the reader that they still have the required experience needed to succeed, just within the school rather than through external work experience.
This same idea could be applied to any other field as well! For example, you could elaborate on the work you did in your AP Chemistry, Calculus, or Computer Science courses for STEM-related internships, or in a wide variety of courses to show your versatility for a job application for tutoring 📎
Resources:
Using Your Template 🖊 
Double-check the whole thing to make sure you've replaced everything with your information 👀 This should go without saying, but look over it multiple times, and have a friend look it over for errors too! Having a third person look over your resume can also help you make sure that the reader is getting the right impression of you, and that the image that your resume creates of you as an applicant is accurate.

Showcase your high school accomplishments 🌟 Most resume templates you will find online are geared towards professionals and people long out of high school and college, so the education section is often minimized on these. But this section is key for high schoolers creating resumes to apply for colleges or internships! Make sure you mention any honors or awards you've received and any leadership positions you held in organizations. 

Mess with the look a little🎇 Make sure your resume is only one page long, and depending on how much you try to fit in, this could take a little work after you initially put all of your information in. Maybe it could involve making the font smaller or taking out a section or two, but this is a very important step as well!

Add action verbs 🏃 These are words like "coordinated", "programmed", "designed", etc. Incorporating these in the descriptions of your experiences on your resume can emphasize your skills by showing the reader exactly what skills you have applied through your work! For example, to highlight your communication skills, you can use descriptors such as "moderated" and "publicized" to demonstrate your skills effectively 🗣

Substance over format

✍️

No matter how pretty your resume is (and I'm sure it'll look amazing!), if it isn't tailored enough to the job or uses mundane language, you won't make it too far.

Make sure to use our tips for filling up your resume! 

When you're done filling up your resume and adding all your edits, download it as a PDF to freeze the formatting 🥶 You might have to submit it as a Word file sometimes, so take note of that as well. Before you submit your resume, double-check the exact file you're submitting one last time to make sure that it is formatted the way you want it to look 📄
Resources: