---
published on august 5, 2020
Last updated on August 3, 2020
AP review season looks a lot different this year as we deal with the spread of COVID-19. Nearly every school is closed, College Board is experimenting with a new online testing system, and the exams themselves have been modified down to 45-minute essays covering about 80% of the content that would be have been tested.
Find the 2020 exam schedule, learn tips & tricks, and get your frequently asked questions answered on Fiveable's Guide to the 2020 AP Exam Updates.
Even though the exam is shorter and schools are closed, there are still thousands of dollars to be scooped up in college credit. In fact, you could argue that this is maybe the easiest year to get a passing score since there are fewer chances for errors. This is usually a stressful time for students as they scramble to earn college credits, but this the extra layers of stress this year are intense. 
One of the challenges of remote learning is that students are struggling with accountability and motivation. 😩 Teachers are innovating incredibly fast to meet this new reality, but we're hearing lots of frustrations and stresses from educators too.
On Fiveable, we have always focused on increasing student engagement through competition and collaboration. These two areas bring students together and spark unprecedented excitement in studying, especially when studying is gamified. We've seen students playing review trivia on Friday and Saturday nights not because they have to, but because they want to. 
This AP season, we're leaning into gamification to help motivate students to study. We're excited to announce the kick-off of Fiveable's AP Olympics! 🥇🥈🥉
Review Olympics were inspired by students and teachers at Skyline High School in Oakland, CA. With school closed, the students were upset that teachers had to cancel the Olympics game they had been looking forward to all year. As soon as we heard about this, we knew we had to build it.
what and when are the fiveable ap olympics?
During the three-weeks of the Olympics, students will face off as if each AP subject were an Olympic sport. Students can compete for the most study points in any of our 14 AP Subjects:
🌍 World History

US History

European History

🧠 Psychology

🏛 US Government
🚜 Human Geography

✍️ English Language

📚 English Literature

🧬 Biology

🧪 Chemistry

🌋 Environmental Science

🎡 Physics 1

📊 Statistics

♾ Calculus AB + BC
how do students play? is it free?
Yes! It's free for all students to compete. Students can play individually, in teams, or with their classmates. We would encourage students to play within all three for the most chances to win!
👩‍🎓 Play as an individual: Individual students will medal gold, silver, and bronze within each subject based on who has the most points per subject. Students can also compete in daily challenges as individuals. Just create a free Fiveable account to get started.
👯‍♀️👯‍♂️ Play as a team: Students can also combine their points with up to four total students to compete in the team challenge to have the most combined team points. Three teams will win this competition. Teams can register for free here.
🏫 Play with your class: And finally, students can join their teacher's dashboard and combine their points with their classmates to see which class has the most points globally. Teachers will need to set up their free dashboard in order for students to access this competition. One class will be named the winner.
how are points earned?
There are several ways students can earn points, all of which will help prepare them for the exam. Fiveable content is the main way students can earn points, but we will also be posting other challenges that encourage students to post original content on social media.
To earn points, just explore http://app.fiveable.me and make sure you create an account. Your points will be automatically recorded as you study. You'll get the points added to yourself as an individual, applied to a team that you are on, and added to a class you are in. Your points are scored for all three.
If you leave a team, the points you earned while you were on the team will stay on your individual score, but will not come with you to a new team. So you can't switch teams last minute and combine points with other students. The best way to compete as a team is to have four strong people early and stick with them the whole time. Each content has some rules for how long you need to be studying to earn the points. Everything you need to know is listed below:
Event / Points / Rule
🎥 Attending live streams

20,000

Must be live for at least 25 minutes.

📼 Watching replays

7,500

Must watch at least 75% of the replay.

🎮 Playing trivia

100 points per correct answer

Can play live or replay. Same game once per day.

🕺Reviewing slide decks

1,000

Must be studying slides for at least 3 minutes.

📓 Reading study articles

1,000

Must be reviewing articles for the full "read time".

⌨️ Play the Hyper-Typer

500

For each completed game, not based on score.
what are the prizes?
There will be individual, team, and class winners! Lots of chances to win and the prizes are 🔥. 
Every time you earn points while you are studying, you are automatically competing as an individual for the best overall, best per subject, and best per content. Three students will win the overall prize for the best individuals. When you study content for AP World, you are competing in that subject. When you read a study guide, you are competing in that category.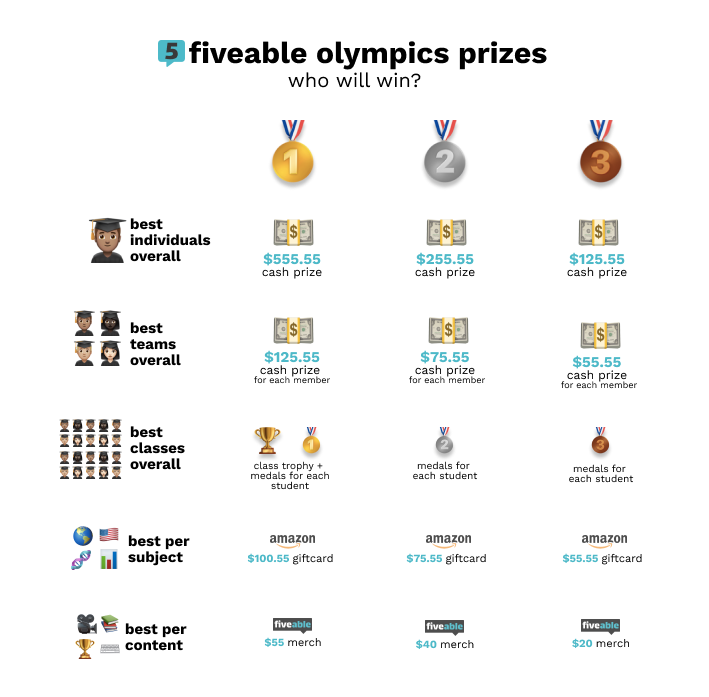 Here's the list of awards that will be given. Each will have gold, silver, and bronze winners.
Best Individuals (globally)

Best Teams (globally) 

Best Classes (globally)

Best Individuals by Subject:
AP Biology

AP Calculus AB/BC

AP Chemistry

AP English Language

AP English Literature

AP Environmental Science

AP European History

AP Human Geography

AP Physics 1

AP Psychology

AP Statistics

AP US Government

AP US History

AP World History
Best Individuals by Content:
Most live streams attended

Most replays watched

Most study guides read

Most slide decks reviewed

Most hyper typer games

Most trivia questions played
Let the games begin!