10 Pinterest Boards to Plan Out Your College Experience 📅
Wondering how to make the most of your college experience? Fiveable has you covered! Check out these Pinterest boards for tips and fun ideas to make your years at college rewarding! Your college experience is what you make of it, so be sure to make it the best it can be!
Living on your own can be challenging at times, but this board by Dr. Rachel Paul details healthy and budget-friendly meal ideas, so you have various options.
Image Courtesy of Pinterest
Planning on rushing a sorority or fraternity? On their "College Life/Greek Life" board, Madison Dianne includes examples of outfit ideas and articles about greek life!
Image Courtesy of Pinterest
Not sure what to bring to college? It can be difficult to narrow down what to bring or what to leave at home. This board by It's Claudia G will help you decide what to pack and what to skip!
Image Courtesy of Pinterest
Most everyone wants their dorm room to be inviting and function as a productive space. Check out Studentrate Trends' board on dorm room trends for some inspiration to get your creative juices flowing!
Image Courtesy of Pinterest
We get it; taking notes can be boring. This "College & Organization" board by user @cchlloee features some ideas from a wide variety of courses. Try experimenting with different colors and headings if you are a visual learner!
Image Courtesy of Pinterest
Want hacks for college success, making friends, and studying? User @collegefashion has a board covering all that info!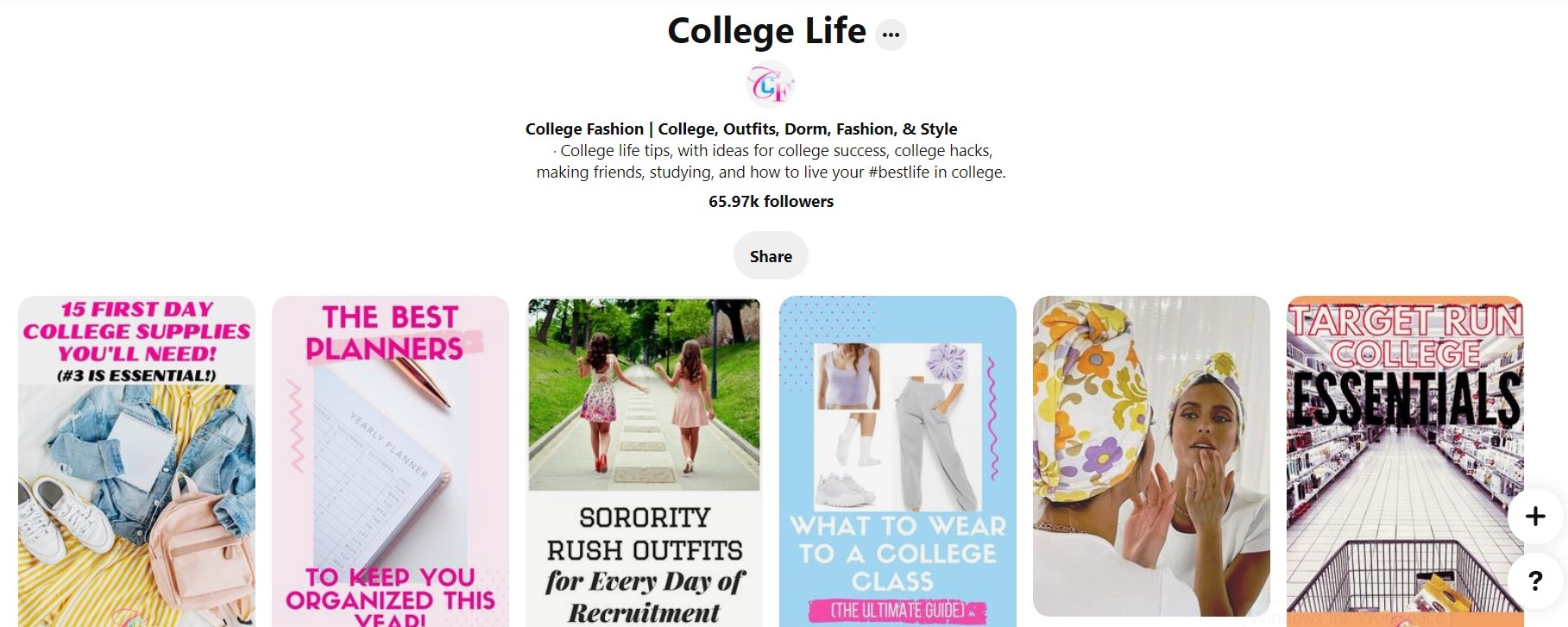 Image Courtesy of Pinterest
7. College Fashion on a Budget
To wear, or not to wear? While you should always wear what you love and feel confident in, check out this board by Madison, creator of the
theblondelifestyle.com
, for ideas if you are feeling stuck!
Image Courtesy of Pinterest
It can be hard to manage stress with an intense workload. Counseling Recovery offers some self-care tips on their "Managing Stress and Anxiety" board.

Image Courtesy of Pinterest
Users "Life is Messy and Brilliant," "Life on Harberson," and "milkfab" created this collaborative board to feature study and organization tips.
Image Courtesy of Pinterest
If you find yourself motivated and determined to write some essays for scholarship money, look at the "Scholarships For College" board by "The University Network" to find some opportunities.