10 College Vloggers To Be Obsessed With 😍📹
While the college application process can be stressful, it can also be fun to start thinking about your life after high school. We spend so much time thinking about trying to get into college itself, but we might neglect to honestly imagine what we want our lives to look like a few years down the road. And one part of the college application process that can help you is looking into a few different college vloggers to see what their lives have been like as college students. 
Not sure where to start looking? Below we have compiled a list of ten fantastic college vloggers that we think are entertaining and contain a lot of helpful information to help you through this part of the college application process.
Elliot Choy is a New York City-based Youtube vlogger who first gained traction after posting his video about his day in the life as a student at Vanderbilt University. A recent graduate and New Yorker, Choy has many videos about his life at Vanderbilt University and is producing even more videos about his experiences in NYC.
Image Courtesy of Elliot Choy
Studyquill is a Youtube channel run by Jasmine, a student at the University of California Los Angeles. It has videos about her experiences as a student at UCLA, has many past videos about her time in high school, and provides numerous study tip videos and college application tip videos.
Image Courtesy of Studyquill
Nicolas Chae is another recently graduated student from Princeton University. He has a variety of video topics on his channel from his life at Princeton University, his experiences as a photographer, and tips to get into dream schools.
Image Courtesy of Nicolas Chae
While not necessarily a vlogger of her own college experiences, Domonique Cynthia documents the experiences of other students from universities all over the nation, most notably through her "73 Questions" series. Chances are, you'll find a video about it on her page! Her youtube channel is a great place to begin looking if you are trying to find out more about student life at a specific top-tier college.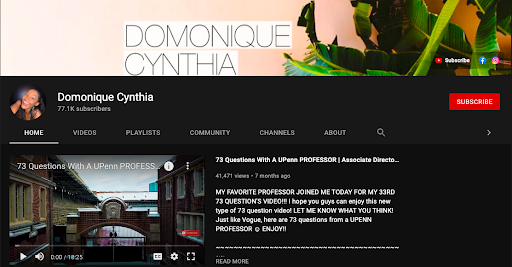 Image Courtesy of Domonique Cynthia
Josh Beasley is a recently graduated student from Yale University. The latter has mainly vlogged about his experiences at Yale University and has many previously produced videos about how to get through the college application process.
Image Courtesy of Josh Beasley
A student at the Massachusetts Institute of Technology (MIT), Nina Wang initially started her channel with a video of her college decision reactions but has now expanded to vlogging about her experiences at MIT.
Image Courtesy of Nina Wang
Riley Rehl is a student at Southern Virginia University who documents her life at SVU and has many fun videos about her life not related to school.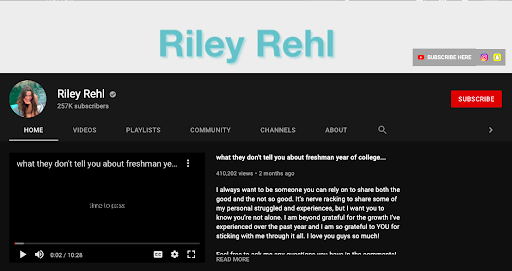 Image Courtesy of Riley Rehl
Initially a student at Harvard University, Sienna Santer recently transferred to the University of Oxford. Her page has many videos documenting her experiences as a student at both schools and has many exciting vlogs about her trips to many other countries.
Image Courtesy of Sienna Santer
A student at Harvard University has many vlogs about his life at Harvard University, but mainly focusing on helping his subscribers grow as individuals. He has many videos specifically on his favorite book reads but also regarding productivity tips.
Image Courtesy of John Fish
Yoora Jung walks through her experiences as a Korean-American college student through her Youtube channel but takes a slightly different approach to her videos. She captures her daily life through montages and provides both English and Korean subtitles to her videos.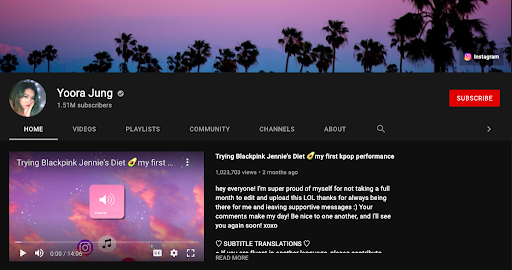 Image Courtesy of Yoora Jung
Conclusion 🌟
I hope that this compilation of different college YouTube vloggers will help you tremendously. And while we have only listed ten college vloggers in this listicle, we hope that you can use this as a stepping stone, but we will explore channels outside of this list as well. Good luck on your college application journey! Next, view these
top Twitter threads for the best college app tips.
Make sure you also check out these top YouTubers with the
awesome college application advice
.
Resources: