1.5: Other Charge Distributions - Fields & Potentials
This topic is a catch-all for more advanced applications of Charge Distributions, Gauss' Law, and calculating Electic Potentials. All of the concepts are covered in the previous sections, so if you need to, re-read those first.
Extended Charge Distributions
Up until now, we've dealt with charged objects as points, but sometimes we can't approximate the charge to be in a single location. These extended charge distributions are cases where the charge is in a ring, or line, or sheet.

Ring of Charge Example:
Image from dev.physicslab.org

If we assume that x >>> a, then we get the same result as for a point charge we found in Section 1. 2! This is a more general case, but we can see that it simplifies to the basic case!

Line of Charge Example:
Image created by author


Gauss' Law for Various Shapes
You should be able to use Gauss' Law to derive these if you need to. Check out
hyperphysics
for more info.
Line of Charge:

Point, Hoop, or Sphere (fully enclosed):
Sphere (not fully enclosed):
Note for Spheres: The electric field inside a uniformly charged sphere is proportional to r until r = R, then it behaves as an inverse square.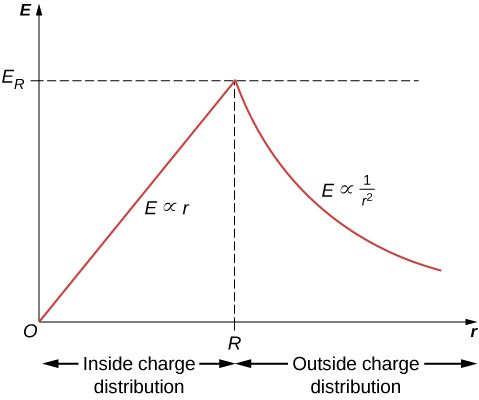 Image Courtesy of phys.libretexts.org (CC BY 4.0)
Insulating Sheet of Charge:
Potential Difference for a Variety of Shapes
This is more straightforward. For all the shapes, simply apply Gauss' Law to find an expression for E, then plug that into

Line of Charge Example:

Conducting Sheets Example (moving from the sheet to a distance d away):

Practice Questions
1.
a)

b)
Image from collegeboard.org
Answer:
2.
Image from collegeboard.org
Answer:

3.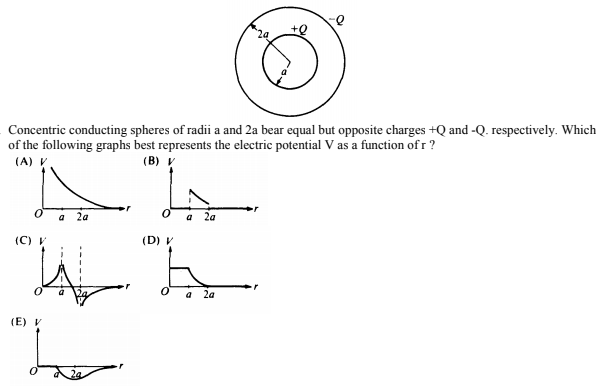 Image from collegeboard.org
D is correct. Outside the spheres E = 0 since the total charge enclosed is 0. Inside the negative shell, the potential looks like a positively charged sphere (constant when r < a, and proportional to 1/r when r > a)